ICPI–Overseas Teacher Training Institute
Presents
Train2Teach-Online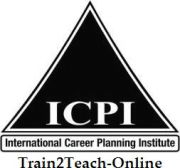 What is Train2Teach-Online?
"Train2teach-online" is a revolutionary new way through which we train and prepare teachers to learn to teach their subject online in this age of internet. We are a team of talented and experienced specialists committed to creating quality solutions through our expertise that exceed client expectations
"Train2teach-online" is part of the pioneering ground-breaking concept of international teacher training developed by ICPI-Overseas Teacher Training Institute (ICPI-OTTI) wherein qualified teachers are specially trained for a country's education system. Since the year 2000 AD ICPI-OTTI has sent over 1000 teaching professionals to schools, colleges and universities in the Middle East, UK, Africa and the Far East.
Now we present Train2Teach-Online yet another

pioneering model of educational excellence from the same pedigree.

What really makes Train2Teach-Online different is we never assume that target audience of our course already know how to be good on-line learners. Hence our role as trainers is to act more as facilitators and mentors in delivery of online teacher education experience.

Just consider what people may know about using computers in western countries may not hold true let us say in

Philippines

,

Africa

or in

India

. That is because the technology may not be in use on such a large scale in these countries where as in the west everything is technology driven.

Hence at Train2Teach-Online instructional design and delivery mode is driven more by technological & educational factors.

But it always remains dynamic and evolving linked through a constant feedback system.

That's why the course curriculum is well researched to arrive at an instructional approach which critically bridges these gaps and differences to make it intuitive, intelligible and easy to follow for its completion in a given time frame.

More importantly, we have gone to great lengths to meticulously structure the training program courseware in such a way that it meets all educational, cultural and social parameters of a mdern day interaction.

Therefore, the delivery mode of this program is customised around the most commonly available technologies around the world.

On top of all that it's simple and non-technical yet at the cutting edge of technology c

ommitted to delivering excellence in

international online teaching.

Our eventual aim at Train2Teach-Online is to ensure that your learning experience is not only highly professional and immediately applied but at the same time its personal, meaningful and useful for your career as virtual teachers.

The ultimate result of all this is our invaluable certification course Certified International E-Teacher (CIET) an online modular training program which simply walks you through the entire process step-by-step training exercises, testing, benchmarking and certification in 50 hours.

In short the

CIET

program has a balanced mix of tutoring, self-paced e-learning and applied learning. It is such that a professional's time, efforts, and career goals are fully synchronised and leveraged to produce the best results both for the trainer and the trainee.

CIET Course is the first ever instructor-lead training program conducted entirely online for teachers or trainers who want to transform their teaching or training capabilities into an online expertise and become e-teachers. Basically it is a real instructor-lead, face-to-face e-teacher / e-trainer online modular training & mentoring program delivered live in trainee's PC or laptop connected to broadband through two way interactive audio / video in 50 Hours divided into 27 hours of instructor lead online face-to-face training + 23 hours of self-learning exercises on websites and downloads from websites for offline e-learning practice sessions for various modules. That is entirely online – A training program without the constraints of a location or time!! Click to check out CIET Course Overview

Remember this is one career move on your part to upgrade your teaching skills is sure to make you an International Teaching professional capable of teaching - Anyone! Anywhere!! Anytime!!! Earning your fees in $ by the hour!!

That too sitting right in you own home!!!

Now give a new lease of life to your career.

Reshape and take it to a new level as an online teacher.

Whether you want to teach from home or go anywhere - Online Teaching will always be your greatest asset.
Finally you could not have chosen a better time to be part of this online-teaching & e-learning revolution which is set to become a 52 billion Dollar world-wide industry this year! So the time to start working on your Second Career is now. To kick-start your second career alongside present job - Please click here to take a Free Online Test for e-Teachers . To send us an email click here. Through a prior appointment you are welcome to meet us virtually on www.skype.com our Skype ID: icpiintl or Send email on: info@train2teach-online.com