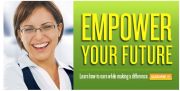 Empowering Teachers and Trainers through

"Certified International E-Teacher" CIET Program

"Certified International E-Teacher" CIET Program is a highly specialised transformational training, and certification program for teachers, trainers, tutors, instructors and coaches which takes their capabilities to the next level. Once completed

they become independent, well rounded & successful International E-Teaching or e-training professionals capable of researching, preparing & planning their lessons electronically and ultimately delivering them LIVE to a class in a virtual classroom on the internet. More importantly, it is our commitment that with our expertise, we will empower them through this 50 hours course spread over 9-days which systematically covers all aspects of online teaching profession in a global environment. This will not only help them but their institutions where they teach. Ultimately it will put them on the high road to a booming and personally rewarding second career as an International E- Teacher / trainer! Remember the ultimate aim of the CIET program is to free you of all boundaries and limitations give you the capability to reach out & teach Anyone....Anytime...Anywhere in the world without even stepping out of your room!! Thus helping you to generate a second income for a life time!!!
CIET certification will give a new lease of life to your teaching career whether you want to stay at home or go abroad – It will come in handy wherever you may be!

CIET certification is for everyone - You may be a teacher in schools or a lecturer / professor in college or university - Employed or unemployed, retired or Experienced or even a new teacher. Anyone can do it provided he or she is passionate about teaching and well versed with computers & internet. We will train do the rest!!

As a CIET certified professional you can also use your subject expertise in E-Tutoring or E-Coaching pupils locally or worldwide and as faculty in online schools.

CIET training is even ideal for a career in e-counselling or e-mentoring. Ultimately given your qualifications and experience you can even hope to become E-Faculty in online colleges and adjunct faculty in online Universities worldwide.

Step-by-Step the CIET certification process will help you to acquire the right technical skills to build a strong foundation that will open the doors to a fulfilling and progressive second career in this new online media.

Thus CIET certification is an investment in your future? You either master it today or choose to be left behind in the race for online supremacy of your subject

CIET certification will in fact jump-start your second career as online teacher simultaneously with your present teaching job!

CIET certification will make you a leader in your field bringing you respect, recognition from peers and pupils.

CIET certification will propel your career on the fast track to success as online teacher.

Thus CIET Certification in online teaching demonstrates to peers and the general public your commitment to this profession.

CIET certification serves to distinguish the professional from an amateur.

CIET certificate reflects your personal commitment to continuing professional development and growth within the online teaching industry thus establishing publicly recognized professional credentials

CIET certification program sets the highest standards of ethics & best practices coupled with the benchmarks for performance and continuing professional development thus making your career future proof.

Through CIET certification you will acquire the capability to teach one2one or as many you can handle depending upon your practice & experience of the system

'CIET' is certainly a qualification worth adding to your name – but above all, it is sure to generate income for a lifetime!!!

And best part is that you don't have to go anywhere to do that – You can start teaching or training online from where ever you are!

It may be your home or you may even be on a holiday because in online teaching time, place or distances are no constraints!!

All you need is a Computer/Laptop with a reliable broadband connection, microphone headset, webcam (optional) and you are ready to start!!!

Seasoned Online teachers on an average earn 10-50 dollars per hour per student.

Just envision what kind of extra income you could generate with a very limited time involvement not to speak of how much you could make with full time involvement.

All it takes is just 50 hours to go through the Certified International E-Teacher or CIET course which comprehensively covers all aspects of online teaching in an international environment.

Please click here to see a video of a class on the internet

The CIET is an Instructor-Lead course wherein the class session take place in real time entirely in your internet browser with voice, video, text chat & an interactive whiteboard.

Just imagine once you are through with it the 9-day CIET program within weeks - You are ready to kick start your second career as an independent international e-teacher or trainer simultanously with your present job.

More importantly, the CIET course content is simple yet at the cutting edge of technology to ensure it is future proof.

Remember the achievement of "Certified International E-Teacher" or CIET certification is the evidence of your pursuit for excellence and the ability to meet standards and requirements in online teaching profession which far outweigh what you might have spent on your training.

Above all, if you are an ICPI certified teacher or trainer under our CIOT & CIET programs and have approximately 300 hours/sessions or more of e-teaching experience in your subject then you are qualified to be part of ICPI's "International Online Guest Faculty" (IOGF) Program. All ICPI certified teachers & trainers automatically become eligible for training, testing, Accreditation & Licensing under the IOGF program. On completion of this you will be provided with regular paid assignments to train online teachers for ICPI under their CIET program. Click here to check IOGF career opportunities worldwide.

So start working on e-teaching along with your present job & kick-start a new career alongside your present job - Send mail to register for CIET Program.
Need more information please visit our website www.train2teach-online.com. For a counselling session click here to join us LIVE in a webinar. To contact us please click here to send mail.